This year's party season is all about sparkle, texture and glamour and French Connection have embraced all of those aspects within their collection of
women's dresses
this season! There is bound to be one that is perfect for what you have planned, one that is ready to take you onto the dance floor or to a stool at a classy wine bar! Embellishments of sequins and gems adorn dresses of a feminine nature and are calling out to be the one you celebrate in this Christmas.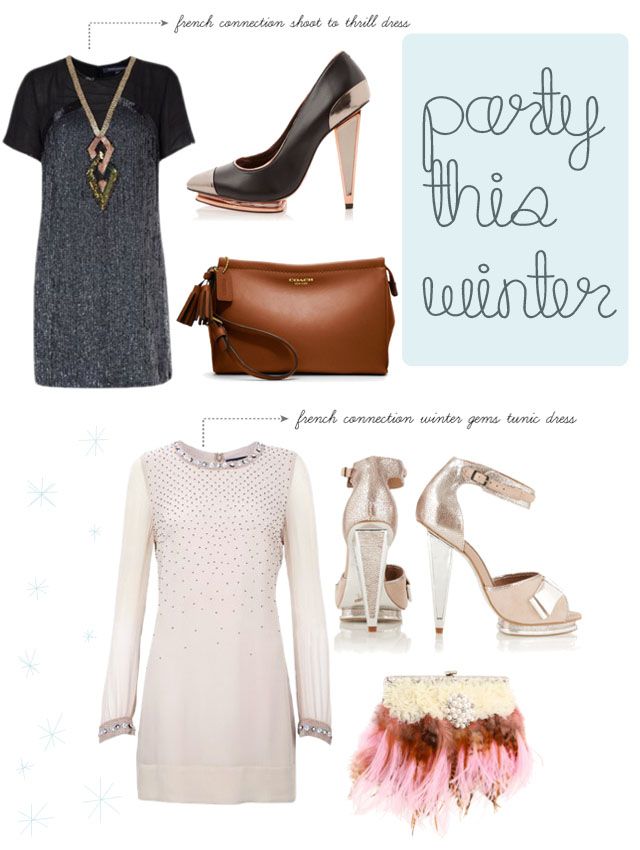 If you're going for sophistication, look no further because the '
shoot to thrill
' dress may be your perfect match! This is a statement number with a detail that performs not only as decoration, but as a necklace too. Shades of bronze, charcoal and green come together in a simple, but chic way - taking the tee-tunic to the next level! Pair this dress with a structured stiletto with metallic trimming from Topshop and you will be well along the way to outshining your peers - to add that extra bit of sophistication grab yourself this tan clutch from Coach and order yourself that well deserved glass of champagne!
If your'e looking for girly glamour then you should definitely opt for this '
winter gems
' tunic. There is plenty of sparkle and the fleshy tones will pick you out as the one to watch on your special night! Be a modern Cinderella with these glass slippers from Topshop and you will be sure to find your own Prince Charming on the dance floor - add texture and an extra injection of glam with this Zapposs feather clutch and get sipping on that martini!
Whatever look you are wanting to achieve, be sure to check out what dresses French Connection have on offer, you are bound to find the missing piece of your dream party ensemble puzzle.
sponsored post