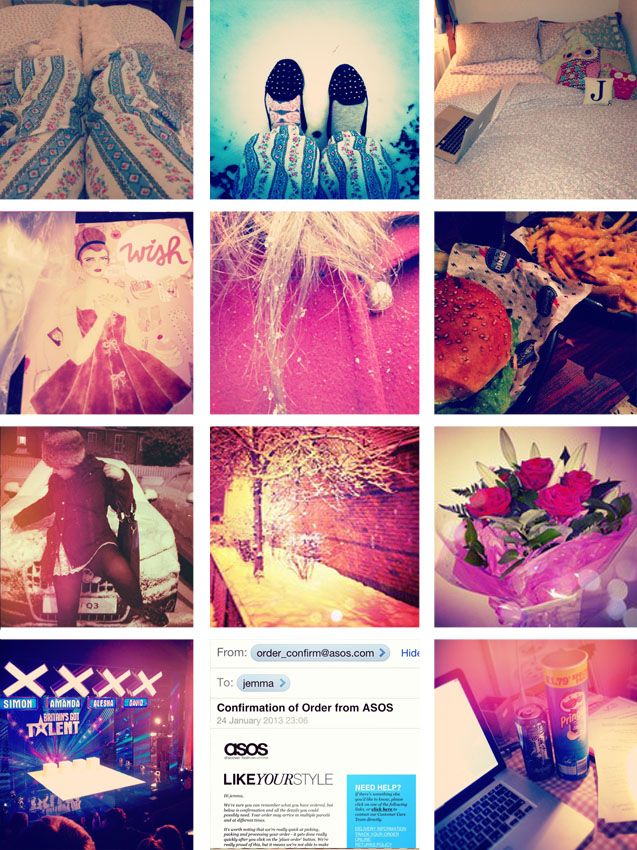 pretty new pjs, cig in the snow, fresh new patterned sheets, wish mag lunchtime reading, snowy hair, best burger ever, being childish, pretty scenery, flowers from interflora, bgt, naughty asos order, dissertation writing
Seriously I don't know where this week has gone, I swear it just never happened. I haven't really done much other than work and prepare for my deadlines that are due this week, I can't believe my dissertation is in for Friday. However, I will be so glad that it will be over with and I can concentrate on my final major project. I am also excited to see
Lily
on Thursday, it will be good to catch up.
I can't actually believe this time last week it was snowing, it goes so quickly in this country, well in London anyway. I am really excited to show you my new blog header when it is finished, I have finally got round to getting an illustration done by the lovely and talented
Jaymie
- her jewellery is equally amazing! I went to Britain's Got Talent on Wednesday in hope of getting a kiss off of Simon Cowell, unfortunately my dream didn't come true, but alas I had a lovely time. I was filmed as an extra to sit in a room while interviews with the contestants were conducted so maybe there will be a glimpse of me when it is on TV... who knows eh?
Back to uni work it is... I hope you're all well!