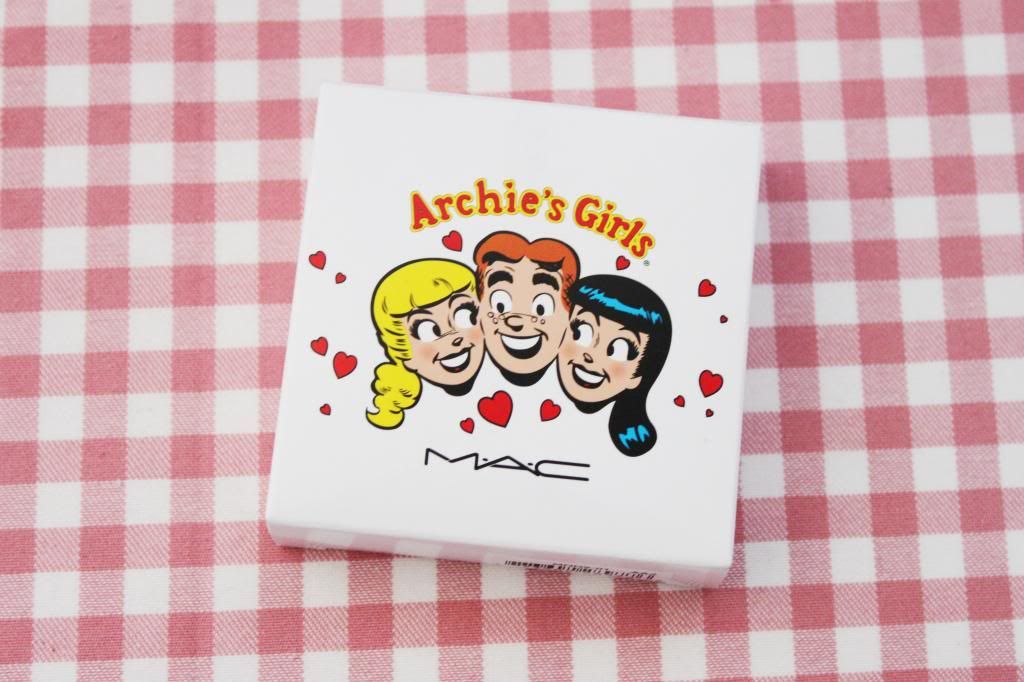 'Veronica Blush' Archie's Girls Pearlmatte Face Powder: £21.50 from Selfridges
From the packaging I would say I look more like Archie than either of the girls, but hey ho what can one do? I love Mac's latest collection and got extremely excited when I saw the products available, thus I hurried to Selfridges as quickly as possible. I can't say many of the limited edition products have stood out to me before, so I don't know what was different this time, maybe the retro theme? As soon as I saw this pearlmatte face powder I knew It needed to be mine.
The powder came in two different shades 'flatter me' which was part of Betty's line, and the one I chose, 'veronicas blush'. Flatter me is more of a coral shade, which I think is better for more olive skin tones, veronicas blush has a pearly pink base with deeper pink hearts which I find suits my pale complexion a lot better. It's very sheeny and I find you need to do quite a bit of a swirl in the palette to get enough powder for it to really show, however I find it absolutely gorgeous. It can be used as a blush, highlighter or even eyeshadow, but I think I will use it as an all-round blush - it really is as pretty on the skin as it is in the compact.
I was after the '
daddy's little gir
l' lipstick too, however they were sold out at the time of purchase, maybe I shall check all the other Mac stores soon!
Have you delved into the Archie's Girls collection? if so what did you buy?