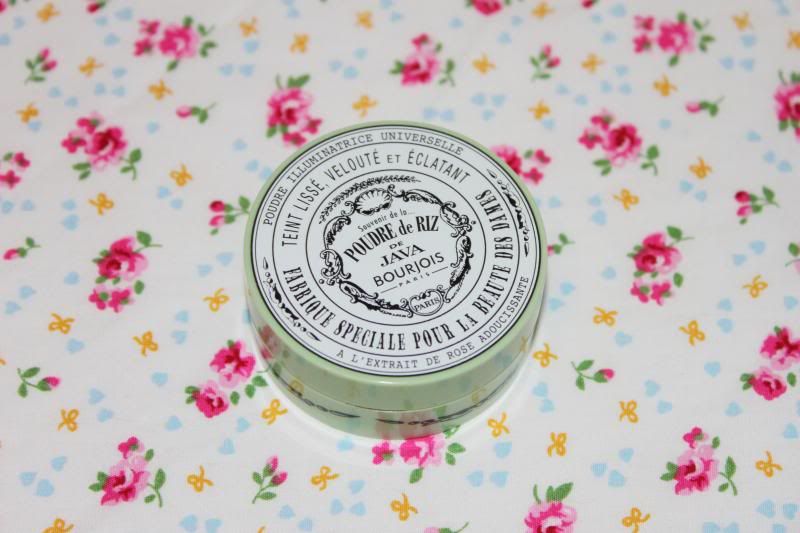 I know this has been floating around on numerous blogs recently, but I couldn't help but throw my two cents into the bag, simply because it's a super pretty product, and not just to photograph. While in London I was looking for this in every Boots I walked past, however they didn't sell it. As I was in Selfridges I was delighted to see this little beauty just sitting in the gift stand and I reached for it straight away. It didn't take me long until I was at the cash register handing over my plastic!
This is one of those products that if weren't for the pretty packaging I probably wouldn't look twice at, and it shocks me to think that this is just a re-invention of Bourjois's first ever powder. This vintage pot of wonderful illuminating greatness is in celebration of their 150th birthday! Happy Birthday Bourjois! I actually really quite like some of Bourjois products, I remember their blusher pots were a make-up staple for me when I first got into make-up (we won't talk about the disastrous shades I chose for my complexion, though! A 13 year old shouldn't be allowed to buy her own blush).
I try not to use too much powder because I have dry skin, but I have to have something on top of my foundation to help me feel as though it's set, especially under my eyes. This sweeps on like a dream, and surprisingly the glitter isn't too noticeable and picks up just the right amount of light on areas like the cheek and brow bones. It smoothes and illuminates, which is everything you could really ask for isn't it? it's not heavy and a little product goes a long way. My only qualm is that it has a twisty mechanism which lets the powder out of the little holes, I personally like to dab my brush into a pot of powder, but tipping it upside down seems to do the trick. The one shade really does suit all because it blends so easily, although I am quite happy to have pale skin in this instance - I feel like a vintage English rose.
Have you, or are you dying to try this?