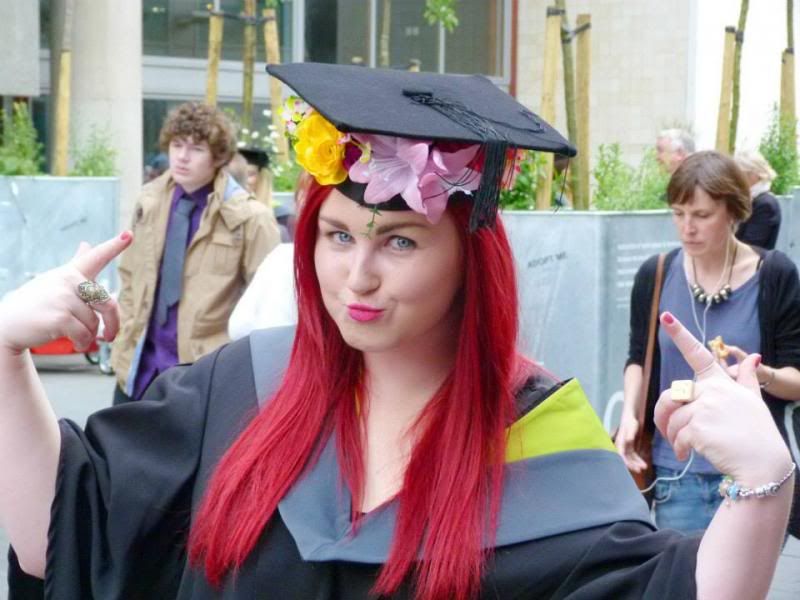 This is quite a personal post about how I am feeling post-graduation. You don't have to read, it's just a way of me expressing how I feel and knowing others are probably feeling the same.
I am quite vocal with how I am feeling the majority of the time, which wont come as a surprise to many of those who know me personally, but since graduating I have hit an all time low and have wanted to share my experiences about life after graduating with you all, especially since I know so many of you are anchored in the same boat. Someone very dear to me suggested I write this, not only to help myself out, but also to reach out to those of you who have similar feelings.
I graduated in June this year with a 2.1 BA (Hons) in Fashion Journalism. I lived in London with three of my best girlfriends and life, although not perfect, was pretty much okay. I was taking each day at a time and was coming closer to finding myself, carving out my own path. This journey, I feel, came to a halt when I graduated. I feel this signified an end of everything that I had achieved. I had to pack up my life into boxes, swallow my pride, and head back home to my parents. Moving away from the city and from the people I had got used to seeing every day was tough, but crafting a new path for myself has been even more taxing. I knew finding work after graduating was going to be stressful and challenging, but I never expected it to hit me as hard as it has. The media industry is probably one of the most prestigious, thus making it one of the toughest to slither into; I guess I didn't prepare myself well enough for that. While a student at university interning became a staple in routine, it was something I knew I had to do, and something I genuinely relished. Though working for free was challenging at times, I did have a student loan and a part-time job to support me, as well as a London home to go back to. Since moving away it has become almost impossible for me to work for free and intern in the capital. I am simply too far out of London to be able to support myself while taking on an internship. Living out of London hinders my chances of claiming on expenses, and while the commute isn't dreadful, it costs a pretty packet each time. Most internships that I both need and want to do are full-time, and I would need a full time wage to allow myself to commute or live closer to my desired place of work. I could go on and on about how I think unpaid internships are elitist and only really available to certain people, but that's a debate I don't wish to disclose today.
I do feel I have gained sufficient experience during previous internships and work placements to progress into a job, but how ever many notable companies I have on my CV, it never seems enough. How many do I have to endure before I am deemed employable on a permanent level? I have been consciously applying for every suitable job in my field of expertise with 'junior' or 'assistant' in the job title. I have even started applying for paid internships because then at least I will be able to rent out a room in London, or pay for my train fare to commute. I just feel stuck in a rut and not up to the standard that I clearly need to be to be employed in a relevant job. Working mundane jobs to scrape by is really getting me down. I go to work most days and do a job I could have done before university, and a job that a trained monkey could do.
It's not only the lack of employment, though. I don't really know what it is sometimes. I try so hard to be positive, which for someone who struggles with their emotions on a larger scale, is difficult in itself, but I find positivity hard to fathom when you're set with constant knock backs. I feel alone. I could be surrounded by friends and still feel completely and utterly lost. At times I don't even know what direction I really want to steer my life towards and I guess we've all had those moments when we feel each and every one of our friends is doing something better; that is life I suppose. I am just searching for purpose. I want someone to believe in me and tell me I am good at something. I want my friends back, because although I probably haven't, I feel since graduating I have lost so many of them to distance alone. I get paranoid about everything and start to believe that I am insignificant in so many people's lives. The lives' of those I hold most dear to me.
I am trying though and I am starting to take some of my own advice, the advice I give to those who cry out to me: keep following the three p's: perseverance, positivity and proactivity. I will always keep applying for jobs, even if I don't feel worthy enough. I am trying to keep my spirits up, believing that one day it will happen, and I am trying to keep busy with staying proactive. I have recently started getting back into posting regularly and immersing myself as much as I can into the blogging world and the culture that surrounds it, as well as freelancing and writing at every chance I get.
I will get there one day, and you will too. If we take anything from life, it should be the wonderful opportunity to believe. There will always be belief and hope and that's what we've got to hold on to.