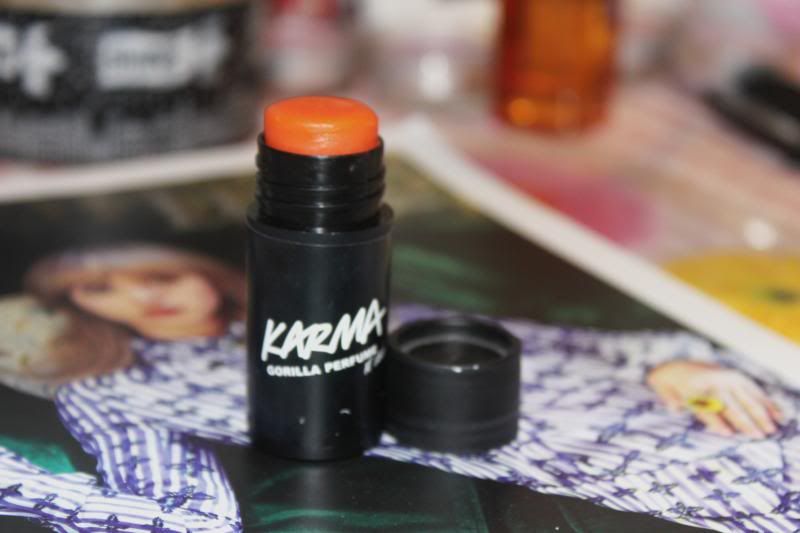 Today I have been very hungover after way too many vodkas last night. I am the worst drinker in the world. I go for weeks without one sip, and then when I decide to drink I go absolutely nuts and think it will solve all of my problems. Alas it doesn't. I did have a good night though, a pretty relaxing house-warming type occasion with a good friend. I have been suffering today big time, you know when I don't feel well when I don't eat all of my dinner, and Mum cooked such a nice Sunday dinner, it was a sad time for me.
Anyway... this week I have found myself reaching for a product I have actually had for quite some time. You know those weeks when you just re-discover old things and reignite your love for them? Well that was me this week with Lush's Gorilla Perfume in 'Karma'. I really like this scent for Winter, it's spicy, powerful but still has a hint of citrus fruit which I absolutely love. I currently have it in its solid form which retails for a mere £5, but I keep meaning to purchase the spritzer of it. However, this little thing is great to throw in your handbag and it's really creamy in application. I tend to put this on my wrists because it is easier to rub in, but it is possible to have a few streaks on the neck!
Have any of you tried this? It's sooooo dreamy! In other news, my 50mm lens should be with me by Wednesday! I am super excited to start doing outfit posts again, I really want to show you my winter coat because it's awesome!