Now anyone who knows me -or is a follower of my blog- will know how much I loved Lula Magazine (
RIP!
) and how much I still do love Leith Clark. With this in mind you can imagine how excited I was to read a press release that informed me of her collaboration with US eyeglasses brand Warby Parker. I instantly knew it was going to be one dreamy collection and after waiting in anticipation to see the editorial images, it was when they finally came through that I sat at my computer screen staring at the wonderful sixties-inspired shoot that infused utterly whimsical eyewear!
I have always been one of those weird people who yearned for glasses, alas I never needed them- this was until I started driving and even then I had such a small prescription, but oh my the joy I felt when I finally got to wear a pair of glasses that weren't clear frames - it was magical. What excites me about this collaboration most -other than the whimsical designs of the frames- is the names of them. They have been given names that I could see myself naming my children after: Marva, Greta, Aurora, Wednesday and Willow - perfect , right? All these designs are available as sunglasses too which is just fabulous! They are said to be inspired by smart-looking and smart-thinking individuals who are ultra-ladylike and spirited. Something I may -arguably- not be, but I
need
want them anyway... they're just toooooo dreamy.
' I like the 1960s, librarians, nerdy girls. I like glasses you had when you were a kid-or that your dad wore when you were a kid- and wearing them now. I like Bergman. Big thick glasses on a little, tiny face. When there are etchings or engravings or magically-made materials. I like pearls, brass, opera glasses. Everything being all violet. I like seeing the world with a pretty pink tint to it. ' - LC

The Marva Colbalt leaf are one of my favourites from the collection; the subtle eyebrow-arched round lenses are really quite something, and the gorgeous colour is something I am convinced will accentuate the colouring of my hair! Yes. Definitely sold.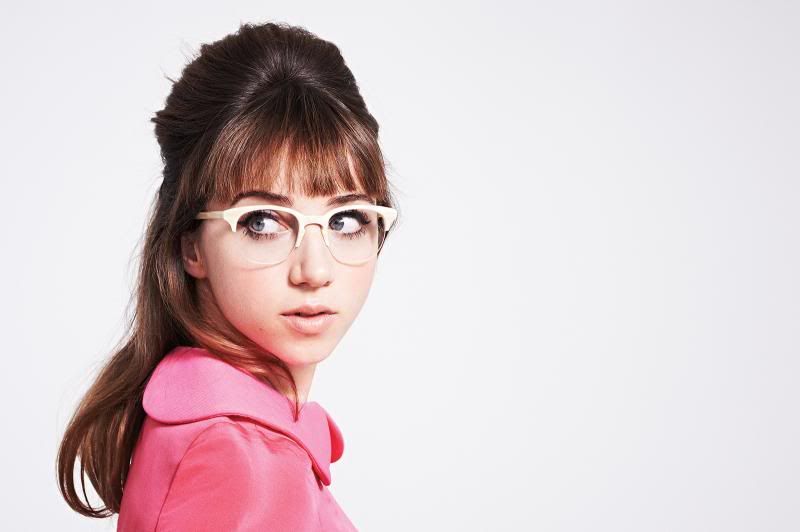 I need these purely for their name: Aurora Daughter of Pearl - I mean come on now, what aspiring princess wouldn't want to own them? Their marbled acetate and rimless lenses emphasise nothing but vintage charm.
What really is great about this collection is that for each pair sold, a pair will also be donated to someone in need as well as a percentage of the sale going to the 'Girl Up' charity - a United Nations Foundation which is a campaign mobilising American girls to raise awareness and funds for UN programs that provide life-changing opportunities.
Being British it's a shame I will miss out on eyeing up these beauties in store, but thankfully they are available
online
(
and do take note of the great exchange rate at the moment)
for $145.
Were you a fan of Lula? I really do feel like these images would have sat perfectly within the magazine. I am still considerably in Lula mourning.