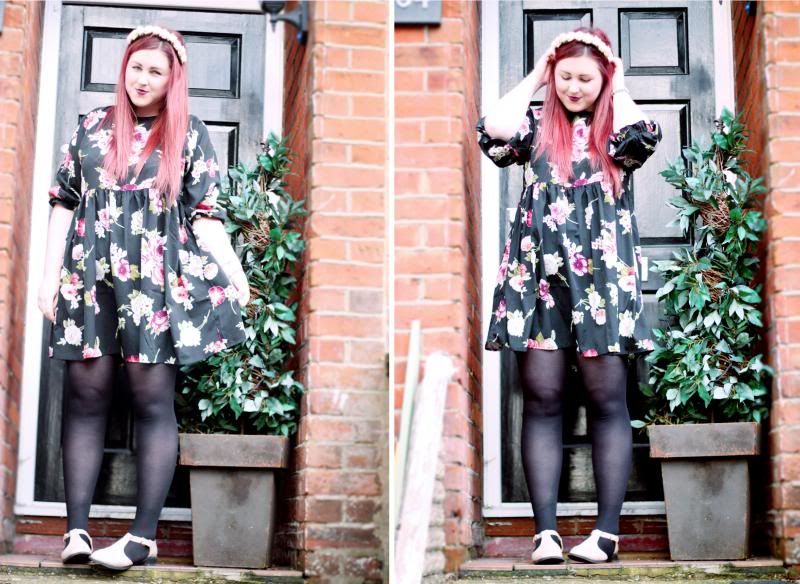 Dress: ASOS | Cardigan: H&M | Shoes: Primark
I am so cold that I fear my fingers may snap off by the end of writing this post. I woke up this morning and saw sun, but my gosh I swear it's colder than ever - preparing for snow maybe? A slight change in location in todays post due to it starting to rain just as I stepped outside, and with winds so strong the camera was catching too many glimpses of my underwear, therefore I ventured under my porch.
I haven't worn these shoes in a while and thought they made a nice change to my usual go-to boots. This dress I bought from ASOS just before Christmas. It's another smock-style which makes me look 6+ months pregnant, however I just love how comfy and easy they are to wear. I feel like I haven't dressed myself in floral print in a while so decided today I would venture back into that part of my wardrobe - it makes a nice change to black I guess!
I definitely need to be productive tonight and tomorrow since I am off work (I only have two days left at the Post Office woo!) and get back to applying for jobs and things. I think panic mode is going to set in very soon, but I would quite like to enjoy a week or so just chilling out... we'll see!
I am getting my hair cut and coloured tomorrow hopefully as my split ends are awful and my hair is so uneven it's crazy. Sadly I am going to lose a lot of length but aim to add more layers to give it choppiness and volume. I've also been considering a full fringe again but I'm not sure. I love it for around a week then get fed up with the wind blowing it here there and everywhere, and the general annoyingness that full fringes bring + when I had one before I was a lot thinner and less fat-faced. What do you think?