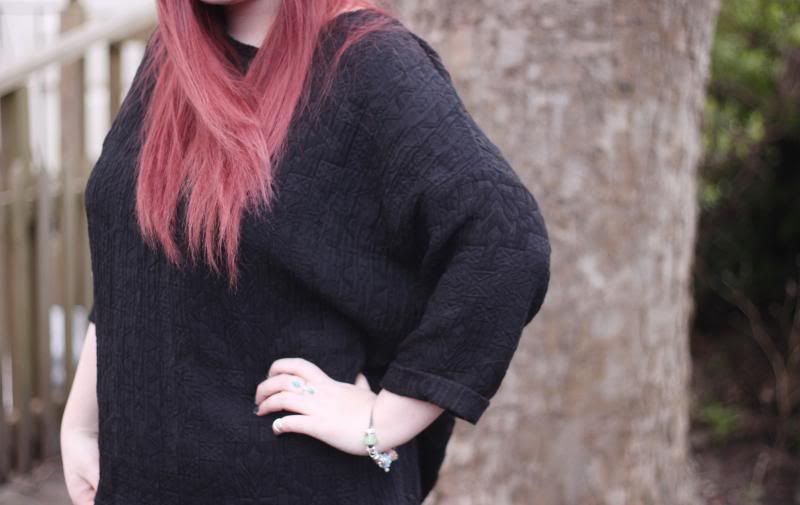 Shawl: Matalan | Top: H&M | Jeggings: H&M | Shearling Converse: ASOS*
I'm finally on the path to getting my blogging mojo back after a week away. The last week has felt like I have been on a roller coaster that has consequently been stuck on loop. I said I wasn't going to post negatively on here but I actually think it's part positive; the fact that I have finally handed in my notice at work. I wasn't happy and it was heightening my anxiety levels and I knew it was the only way I could fully motivate myself in moving back to London. I know -obviously- it wasn't the best decision financially but hopefully the risk will pay off and I can get a new adventure rolling soon. I have actually applied for Selfridges so I am hoping something comes from that.
But for now, blogging is a nice little distraction from everything going on in my personal life so here's an outfit post of what I wore to work today. I got this shawl for Christmas after seeing it on
Charissa's blog
and loving it! (I think she pulls it off better than me) It is the perfect thing to throw on when you're not feeling wearing a coat, equally it goes under my coat as an oversized scarf quite nicely. My work is absolutely freezing so it works alternatively as a kind of blanket while I am there. I still haven't gotten over tartan, I still absolutely love it. It really adds something to a rather simple outfit - as seen above where I am dressed pretty much in all black. I don't know what has come over me lately - I have been buying and wearing so much black as opposed to my usual prints. I've rediscovered my love for darker hues this winter and I feel great in black - maybe I am subconsciously tapping into my moodiness, too!
I bought these jeggings the other day as they are perfect for both work and everyday wear, however I am really unsure of their fit. Being on the curvier side I tried on a large and I was so shocked to see they were absolutely massive on me, so I bought a medium; but they're not much better. I also have really short legs in comparison to my body so I find them to gape on the knees even when rolled up. Despite them not being the best fit they are super super comfy and look like jeans - I won't be moaning at their bigness when I eat tons and bloat myself to the size of Australia.