I was recently challenged by
Most Wanted
(the lifestyle magazine of VoucherCodes) to compile a few different outfits that fitted with a SS14 trend, and on a budget. Like the girly girl I am - well particularly in the Spring/Summer time - I opted for the Fondant Fancy Pastel trend. I adore pastels. Like seriously adore them. Soft colour palettes suit my English Rose skin more so than brighter hues so I couldn't wait to get stuck in. I was given a budget of £80 to find 3+ items, showing three different looks for three different occasions, showing you how to transition your wardrobe economically into the new season (which we are yet to see many signs of - go away rain!).
I took to the great British high street in Central London to begin my forage for sugary pastels good enough to eat. Primark was a godsend. They had just launched their SS14 collection and I could have gone completely crazy - they had so many lovely bits.

I'd like to apologise for how awful these photos/I look... It took forever to take them due to the miserable weather. After look 1 it literally chucked it down so I then had to wait for it to stop... this went on for a while *stupid British weather* so I ended up looking rather manky and windswept.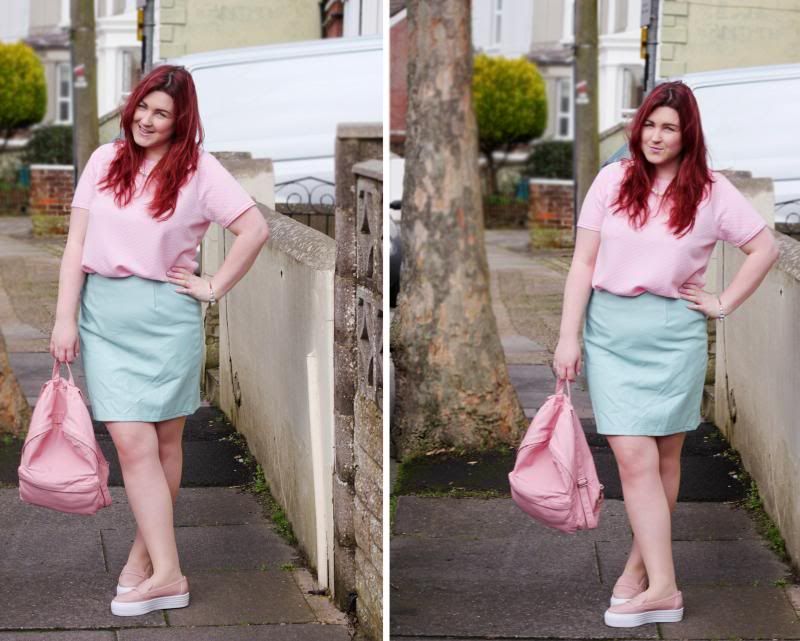 TOP (£6), SKIRT (£10) AND BAG (£9): PRIMARK * | FLATFORMS (£19.80 W/STUDENT DISCOUNT) : ASOS*
The first outfit I put together is probably my favourite. I was instantly drawn to this pleather skirt, I love mint for spring and paired with pink I think it makes the best pastel pairing yet. I would wear this for a picnic in the park with friends once the Spring weather kicks in - a backpack is perfect for carrying some yummy nibbles: think cucumber sandwiches, scones, strawberries and equally pastel macarons - there's even room to fold up a picnic blanket.
Now this is a casual outfit that I would wear out shopping, the shoes are super comfy so are perfect for running errands. The jumper is so so so cosy, like I just cannot explain how amazing it feels on. It is slightly cropped which isn't so good for my muffin top but paired with some high waisted jeans you're good to go! It adds a good pop of pastel without being too out there. Understated but still ultra-stylish - as well as being a complete bargain!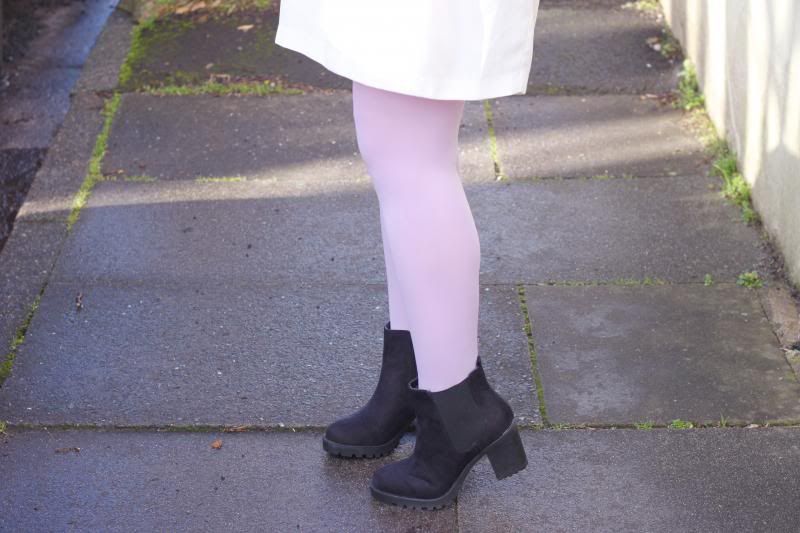 LEATHER JACKET: PRIMARK | DRESS: MONKI | TIGHTS (£6): ASOS* | BOOTS: PRIMARK
Adding a pop of pastel goodness without looking too summery, because hey, even though it will be Spring it will still probably rain (joys!). I would wear this out in the evening, for dinner and drinks with a few friends, or even with my parents. I'm not sure how I feel about wearing pastel tights... I feel my legs are too chunky monkey for that kind of thing but if you have better legs than me, I think you should definitely go for it - they're a super pretty colour and a pretty simple way to transition an outfit into a new season.
Are you going to be pastel-popping into Spring?