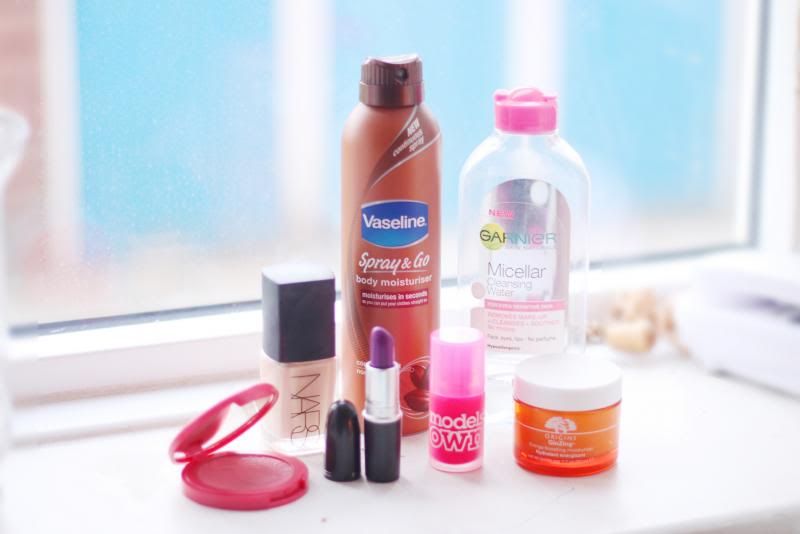 Golly, long time no blog eh? I have missed my little place on the interwebs greatly; but woah has my life been a little off scale lately. I cannot believe I have been back in London for a month now, time literaly runs away from itself. I've been meaning to do a post for so long, but something always gets in the way. I am so happy it is starting to get lighter in the evenings now, hello GB summertime! I hate that when I leave for work, and get home from work I am either too tired to do blog stuff, or the lighting is just utterly horrendous. I hope this bout of motivation lingers because I have so many blog ideas. I've finally settled in London, I am in the swing of my new job, I actually now have somewhere to live and being back with my friends is great. I do miss home, but I feel like a proper little grown up now; although a small gal in a big city does have its troubles sometimes, but nevertheless most things are pretty good. I think now I have decided to stay in the same house I am going to start roping one of my housemates into taking outfit photos for me, because I have a few new bits I wish to showcase - it's a bit of a nightmare though as my housemates and I work completely different hours so always miss each other being in. I am sure I will work something.
Anyway *back on track*. March favourites. There have been many I must say. I write about fashion & beauty for a living which has its pros and cons. Pro is I am one of the first to hear of new launches, con is it makes me want to buy so much stuff. I have really upped my beauty game recently. I am more and more swaying towards beauty instead of fashion, make-up is just so exciting. Over the last month I have been lucky to attend some great press events and launches so my *omg i love* pile is forever growing. These are definitely my most used products of the past month, though.
001. Tarte Amazonian Clay Blush in True Love*
- I have been dying to try Tarte for a long time, especially the blushers as I have read countless blogs raving about how wonderful and pretty they are, and I don't disagree, they are amazing. A few weeks ago I attended the UK launch of Tarte with QVC and got to test out the great range. After I had my make-up done, I literally fell in love with everything, and I mean everything. The foundation has now made its way onto my 'to buy when you've got money' list, but I was lucky enough to receive the same blush the make-up artist used on me. It's a really nice coral pink colour which suits my pale complexion perfectly. It sweeps onto my cheeks like a dream and when mixed with a little bit of highlighter, it lasts most of the day.
002. Nars Sheer Glow Foundation
- I honestly don't know how I coped before I bought this. This may even top my EL Double Wear, I am that addicted. It's got great coverage while offering a slight dewy look to my skin, which is great because I suffer from terrible dry skin.
003. Vaseline Spray & Go
- This is now my fourth can of this little wonder product. I love it that much, it's a lazy gal's dream. It makes my skin feel so supple and sinks in super quick. The only downside, I feel, is that it doesn't last as long as the cream formula, but maybe I just get too excited and go spray crazy. It still has that wonderful cocoa butter smell too! I am yet to try the other versions, but I may try the aloe vera one at some point.
004. MAC Heroine Lipstick
- I have worn this so much since I bought it. As soon as I heard it was being released as part of the permanent line I knew I had to get my hands on it. I also saw
Zoe
wearing it at the Tarte event and that tipped my desire over the edge. The next day it was mine. The best love affair of my life. It's a gorgeous bright purple shade, and I love purple lipsticks (I've lost count of how many I own). It's a matte finish which is one of my favs and lasts a long while before starting to fade.
005. Models Own Bubblegum
- I picked this up in the 50% sale a few months back and am so happy I did. It's a very apt shade for SS14 and really lifts a boring outfit, it's so bright I feel like Barbie when I wear it. Always a bonus, right?
006. Origins GinZing Moisturiser
- Again, another product I don't know how I lived without. This has become a firm favourite moisturiser of mine, and I have tried many. The smell of it. Oh gosh the smell. It makes me want to lick my own cheeks. It makes my skin really radiant in the morning, and makes it look super fresh. It is also a great base for foundation - this with Sheer Glow is a match made in heaven.
007. Garnier Micellar Water
- Not quite Bioderma but the best dupe I've used. Doesn't need much explaining, however it takes off make-up super quick and easily and makes my skin really soft and fresh.
Do we share any favourites? What are your March favourites? I am always looking for recommendations!