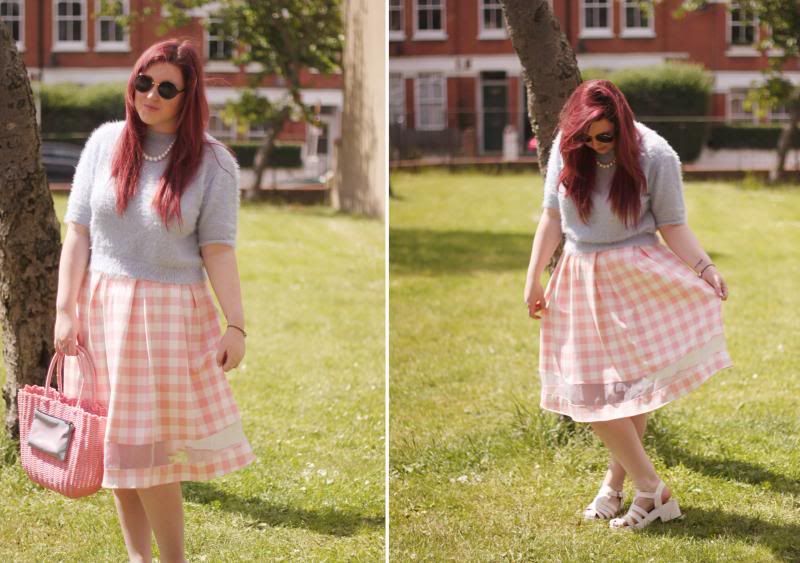 JUMPER: PRIMARK* | SKIRT: MATALAN | SHOES: NEW LOOK | BAG: ITS NOT ME ITS YOU LONDON* | NECKLACE: PRIMARK | RINGS: PANDORA & REGAL ROSE | SUNGLASSES: SPITAFIELDS MARKET
What a lovely sunny Sunday we are having eh? I guess we have to make the most of it before the rain sets in again. I don't have many plans for the bank holiday, other than chilling out and getting my life together generally. I love four day weeks though, and I am hoping the next week flies by as I am off home on Friday for another three day weekend - woohoo! Life in London has been so busy lately, but I take that as a good thing as it keeps my mind off of other things. I am starting to feel like my old self again, as lame as it sounds, I haven't worn bright/pastel/general colour in a long while so it's great to feel all cliche and pink again. This skirt has been sat in my wardrobe since I bought it as the weather has been too shoddy to wear it but it's the perfect girly style for summer. It reminds me of a lot of the skirts in Topshop at the moment, so I am pretty impressed I got it at a steal in Matalan - organza trims are the one! I am also loving these shoes at the moment, so much so I also have them in black. Lots of people think they're ugly, but ugly shoes are in! Right? I have since realised though that this outfit makes me look a little frumpy as it doesn't really show of my waist... ok who am I kidding, I don't have a waist *casually sits here dipping into a huge bag of Metcalfe's popcorn*.
I hope you're all enjoying the three-day weekend so far!