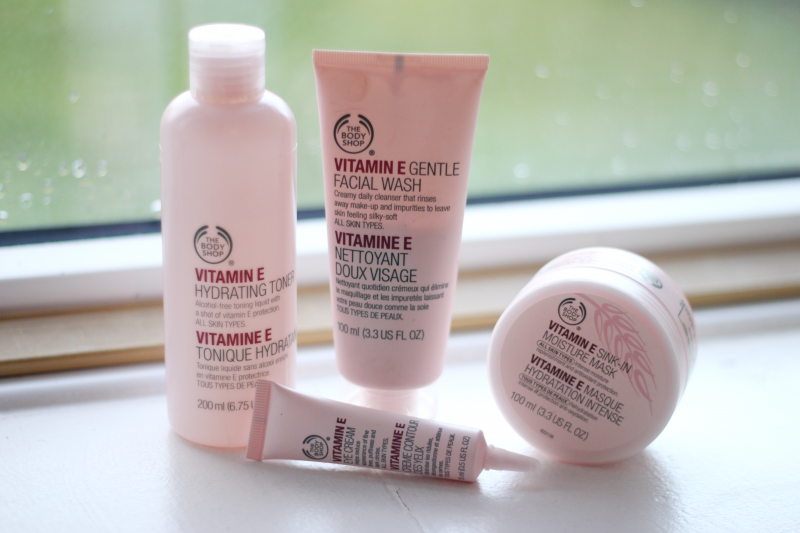 THE BODY SHOP VITAMIN E RANGE*
I am currently without a laptop so in order to pander to the blogging bug, I have hi-jacked my friend's iPad, which I find really quite annoying to blog on. Nevertheless I am taking the technology plunge so I guess we will have to wait and see how it turns out. The last few weeks have been mega stressful for me and I must say I would usually resemble a spotty Sabrina right about now, however thanks to the above products from The Body Shop, I have been spared of that unpleasant look. I was kindly gifted the
Vitamin E
skincare range to trial and I have been so impressed with the results it has made to my skin. I have been using all four steps for the last month - which is actually quite difficult considering I am a skincare junkie who is constantly mixing up her routine - and they have really helped clear up my hormonal skin. I guess you could say I have combo skin as I do get some spots but on the most part it is incredibly dry. The Vitamin E range targets all skin types and not only deeply cleanses the skin, but leaves it super soft, supple and hydrated in the process. Products I have been using include:
Gentle Facial Wash
, a creamy cleanser that rids impurities and leaves skin silky soft;
Hydrating Toner,
which I actually loved as it wasn't harsh on my skin like some can be and made me realise what a valuable step toning really is;
Eye Cream
, which left my eyes feeling like a baby's bottom; and
Masque Hydration Intense
, which I used as a moisturiser in the evening as it is quite heavy but sinks into skin and you only need to wipe off the excess residue. I guess the moral to this skincare story is that sometimes, by using only one single range of products, the routine can really benefit your skin. This is difficult to do though if you love mixing your routine up with lots of brands and products. I am so happy with how my skin has been that I will come back to these products as a fail safe option when my skin is acting up. I think my next purchase from the brand will have to be the Camomile Cleansing Oil as I have heard only great things. Are you a fan of The Body Shop? Any other recommendations? They have such a good web discount deal on at the mo too, £10 off a £30 spend... Result!