You have dry, coarse and brittle hair too? I feel ya girlfriend! Having crazy coloured hair stems from bleaching, and with bleaching comes an array of hair problems, in which I confess to having them all. It's a curse of having a Mother as a hairdresser: the constant need for experimentation at minimal financial cost. I actually cannot remember a time when my hair felt 100% healthy, soft and shiny, and it certainly doesn't mirror the condition of hair broadcasted across many hair advertisements we've become accustomed to. I try not to scrutinise myself too much for my poor hair choices, and instead find myself experimenting with every hair product on the shelf that informs me that it will impact my hair regime for the foreseeable future. I'm a sucker for good marketing, but aren't we all? In my latest hair discovery, I am going to transport you to Asia with Revlon's
Orofluido Asia Zen Control Elixir*
. Now, I don't know about you, but I'm all for controlling and enhancing my zen, however you interpret.
Hair oils are the only thing, in addition to intense conditioning treatments, that seem to liven up the condition of my hair. I probably have at least six on the go at one time, and usually create a cocktail of a few of them each time I wash and style my hair. Because I don't blow dry my hair often, I find oils work the best without having to be sealed by heat. The Orofluido Asia Zen Control Elixir offers a lightweight conditioning formula that solves the issues of frizz control, flexibility, smoothness and shine without weighing down the hair, or making it greasy. The product also contains a UV filter to protect hair from the sun, and bamboo extract rice oil - known to improve hair elasticity. Using this makes my hair feel enveloped in pure luxury, whereby both the Asian-based ingredients and opulent texture transport me to a place of hair happiness: glossy, utterly smoothed hair cuticles and sensually fragranced. It's every girl's dream, right? I love it when my hair feels on form; a good hair day makes me feel like I can take on anything - within reason. The scent of the Orofluido Asia Zen Control Elixir is a fruity floral one, a sweet fragrance of flowering camellia with a hint of fruit.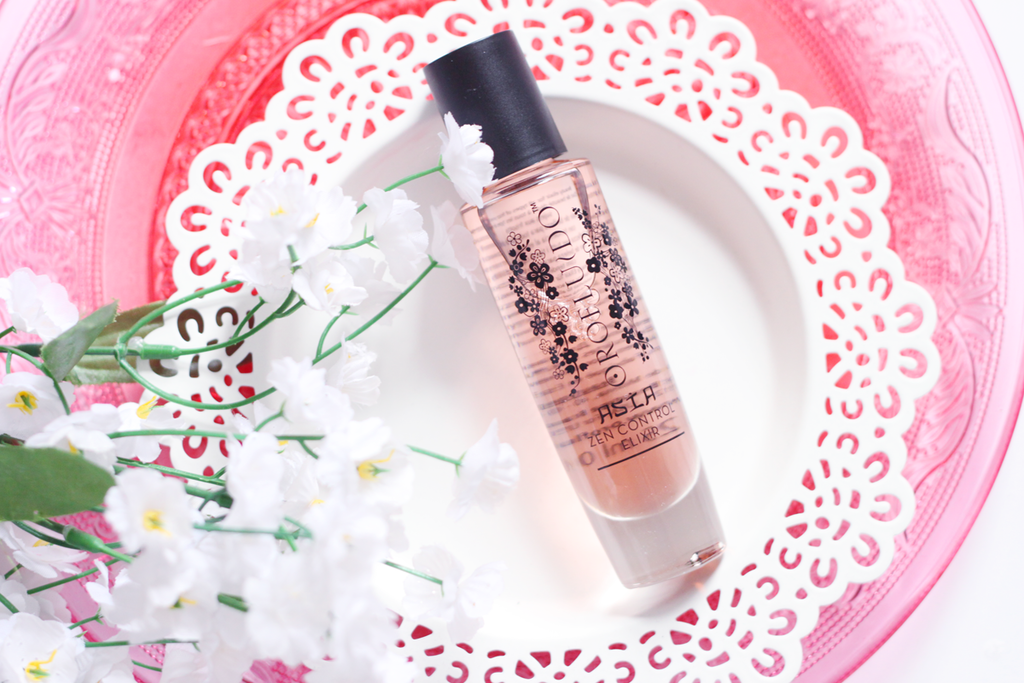 In terms of application, it depends on your hair type: thickness, manageability, length and porosity for example. I like to get a generous amount in the palm of my hands and run it through my mid-lengths and ends to start, and then get another palm full and moisturise it into the ends for a second coating. I then let my hair air-dry and then rub another pea sized amount into my hands and run through my whole head when dry, just for extra cuticle smoothing. It must be said that I have been known to sit a while after just sniffing the bottle… you will know what I mean if you've used this.